The very famous quote 'Even Miracles take a little time' is nothing less than a truth for this group of four young boys who shot to fame after winning the coveted title during their debut participation at Wings To Fame 2016.
After winning the title, we recently caught up with this boy band from Warangal (South India). The boys quickly joined us for a candid interview. T. Praneeth Kumar plays Violin along with Ravi Teja on the Keyboard. Vamshi leads the guitar while Pradeep takes over the drums for this group. Together, they set the stage on melodious fire!

Here's what they had to say about their experience and their journey through the competition.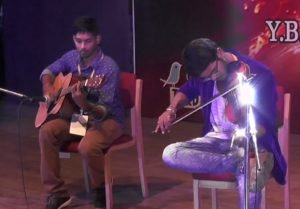 "Dreams do come True – Believe in it"
– Music Miracle
WTF –
Hey, so what have you been up to after winning Wings To Fame 2016 title?
Music Miracle –
We are still in Cloud NINE. Winning the title was nothing less than a miracle for us. Emerging as a winner from 11000 entries was a journey of tough path. We received huge recognition after our success along with few assignments which are being evaluated before we commit since all of us are still students and have been very busy with our exams.
WTF – Why did you choose to participate in Wings To Fame while there are many other reality shows aired in TV channels?
Music Miracle – Giving an audition was itself a dream for us. Auditions for any reality show is mostly held in main metros across the country while all the four of us hail from Warangal, which is a small city in South. We don't get opportunities to showcase our talent. Our passion in music was restricted to the four walls of our homes until we heard of WTF audition in our city. WTF encourages talents from small cities making dreams come true and this is a non-scripted event. What better than this can one expect??
WTF – Wings To Fame was your first audition & you got selected. Tell us about that experience
Music Miracle – True.. We almost missed the opportunity since we got to know about the audition only the previous day and by then the registrations were already closed. Still we went to the audition venue to try our luck and there were 1000s of aspiring musicians, singers and dancers thronging at the entrance and waiting for their turn. We somehow sneaked through for a lifetime chance and after hours of waiting, we gave our audition and that was a moment of happiness for all of us as though we have won the competition. Then came the online voting which was the selection matrix for semi-finals stage and to our surprise, audience loved our performance that we received maximum votes and entered semi-finals stage. Coming to the city of dreams – Mumbai for the competition and meeting other aspirants was even more amazing. We made many friends for life.
WTF – You were criticised by the Jury panel for lack of coordination. How did you still get selected for the finals?
Music Miracle – Yes, the judges were happy with the four of us as individual performers but found us disastrous as a team. Audience loved us a lot but the jury panel didn't spare us a pie. We were criticised for lack of synchronisation & zero strategy. They pointed out every mistake we made on stage. That disappointed us and completely shattered us amidst 100s of audience that rather loved our performance. But we were surprised and astonished when our names were announced in the selection list for Grand Finale. The Jury panel came to us personally stating they decided to give us a 2nd chance since they saw four different dreams in our eyes and the passion to make it big.. We had tearful eyes and couldn't sleep the whole night since the grand finale was just the next day.
We brain stormed on our strategy and kept practising the whole night while all the other finalists were having peaceful sleep. The destiny brought us until here and it was our responsibility to make good of it. We took every suggestion of the jury panel and carefully analysed it and realised where we went wrong. This was not only our 2nd chance.. that was the only chance we had in hand. Our last chance to become someone, to prove our talent to the world.. We were calm and composed and rocked the stage without looking at the jury panel or the audience. The auditorium was pin drop silent through out our performance making us nervous. As we finished, to our surprise the Jury panel and the whole of auditorium gave us a standing ovation during the grand finale. We were spell-bound & speechless. Whole auditorium was clapping for many minutes and each of the jury panel praised us….. That was a turning point and that was more than winning the title!!
WTF –
What's next?
Music Miracle –
We have done some song covers and have recorded few pop mashup. The video is almost ready. We shall soon launch our youtube channel. We wish to become a Youtube sensation to start our journey into entertainment industry.
WTF –
Your advice and suggestion for other aspirants and 2017 participants?
Music Miracle –
Wings To Fame is the right platform for every person to showcase their talent to the world. The competition and the participation is very easy. It helps you to understand your flaws and better it at every stage. Your self-confidence increases and best part of this competition is that it is real and not fake. We received a lot of positive advice in bettering our expertise and shaping ourselves. We made lovely friends and it creates a very positive impact in your life. Wings To Fame is one of the best and sweetest memory of our lives. We can't thank the platform enough. It's a blessing.
Dreams do come True – Believe in it
, says Music Miracle , as we wrap the chat session. Here's wishing the group huge success and the best for coming years. Wings To Fame will continue to appreciate and promote its talent to the world.